Worship Sundays at 1:00pm
Thursday Cafe (Sept-May) Thursdays 12:30-2:30pm
At All Saints Church in Worcester
Mission Statement: Worcester Fellowship is dedicated to ending isolation by nurturing community and providing pastoral care. We welcome everyone, we are an outdoor church, we reach out to homeless and at risk adults and we believe God loves us now.
"Worcester Fellowship is
a church for all people.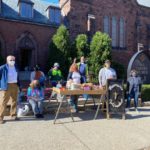 Sunday Worship
Sundays at 1:00pm at All Saints Church. Worcester Fellowship imagines a church where people with housing and people without housing gather together to share worship, to build community, to know God's infinite love and find 'home' as part of the Body of Christ, the Church.
Pastor Information
Update coming soon
Susan Pellerin
Sue Pellerin has been the Administrative Director of Worcester Fellowship since 2015.  She coordinates the Sunday Worship lunch program, the Thursday Cafe Meal Program, supplies for our ministries; oversees our annual appeal drive; assists with our community and public relations; and is the point person for our supporting churches and organizations for contacting Worcester Fellowship.